A Experienced Local Hainesville Roofing Contractor Near You
KEEPING YOUR HOME SAFE, DRY AND COMFORTABLE! ONE OF THE BEST ROOFING COMPANIES NEAR YOU!
NWS Restoration – Hainesville Roofing Company
WE CAN FIX YOUR ROOF PROBLEMS – EXPERT ROOFERS
Hainesville Roofing Company, NWS Restoration is one of Lake Counties Top roofing companies and has been serving the Hainesville, IL area for over 15 years. From our humble Hainsville beginnings, we have grown our local roofing company with the simple formula of a "Commitment to Excellence". NWS Restoration is committed to being the best Hainesville roofing contractor and the most trusted roofers in the industry.
ROOF REPLACEMENT WITH TRUSTED NWS RESTORATION PROFESSIONALS – ONE OF THE BEST ROOFING COMPANIES NEAR YOU
Your Hainesville roofing inspector from NWS Restoration has been through rigorous and extensive training to be designated as expert Hainesville Roofers. We invest heavily in our team members to ensure they are the market leaders in roofing knowledge and professionalism. Giving our customers the very best advice and consultation on their roof has been critical to our success. If you think your home has damage due to hail or wind, read below to learn about our 5 step process that we help you through using our insurance claim assistance program NWS Restoration.
Step 1: Detailed Professional Roof Inspection by a Quality Roofing Company
If you are concerned that there is probable damage to your roof system, the first step is to have a Professional Roof Inspection completed. Roofs are a dangerous place for most homeowners, so getting a Professional Roofing Inspector to complete an inspection is always recommended. Call us at 847-375-1748 to arrange a complimentary professional inspection of your roof system from a NWS Restoration Qualified Inspector.
Your NWS Restoration hail and wind damage Inspector has extensive training and certifications in assessing weather related damage along with a complete understanding of the Insurance Claim processes. Our highly trained Certified Estimators are experts at identifying damage that most untrained eyes may overlook. If damage is determined, your NWS Restoration storm Inspector will provide you with pictures, an inspection summary and all other information needed to submit a claim. With decades years of experience, we can properly assist you through the entire process. Call 847-375-1748 today or fill out our contact form to get started today.
Step 2: Insurance Claim Submission and Approval (read more)
If your roof is determined to have un-repairable damage due to hail or wind, your Insurance company will need to verify the damage and approve a claim for replacement. Northwest Storm Restoration, LLC has been working with homeowners for years and we understand the process for excellence in roof replacement. Your Certified storm Inspector can help answer questions you may have during the process. If the Insurance company agrees that your damage is covered under your policy, you will receive an approval for replacement. Now it gets fun!
Step 3: Choosing Your New Roof! A Quality Install by a local roofing contractor (read more)
Unlike other Hainesville roofing companies, NWS Restoration uses the highest quality Roof materials. These brands include GAF Timberline HDZ, Certainteed, and Owens Corning. Roofing materials have made tremendous advancements and a new NWS Restoration Roof System can enhance your home's curb appeal with a fresh new look! Your local expert roofers from NWS Restoration can assist you in designing your own quality Roof System that you will be proud to showcase and see every time you drive up to your home.
Step 4: Roof Installation and Setup (read more)
Installing your new roof system is a big job. We must first remove and dispose of the old damaged roof, being careful to keep your yard and surrounding areas clean of debris. Next we prepare the stripped down roof deck with synthetic underlayment to prevent any wind driven rain from reaching the roof deck. Your new shingles are installed along with advanced ventilation systems that help keep your attic cooler in summer to prevent damage to the roof system over the years. Call 847- 375-1748 today or fill out our contact form.
Step 5: Final Roof Inspection and Warranty (read more)
After your roof is installed, we make sure to carefully patrol your property for remaining debris and clean the entire work area. Unlike other local roofing companies, we want your home and landscaping to be just as we found it before your new roof was installed. We will inspect the new roof to ensure it is properly installed and will meet the warranty specifications for coverage. Your warranty and our Commitment to Excellence ensures your roof will be properly covered and managed throughout the years of warranty coverage.
Commitment to Excellence – A Local Roofing Company Near you
Hainesville Roofers
EXCEEDING EXPECTATIONS ON EVERY ROOF REPLACEMENT
We want you to know that your satisfaction with a job well done and exceeding your expectation is our goal. Roof replacement is a complicated and messy process. We aim to make it simple and clean for you. Our Google reviews online are a reflection of that Commitment to Excellence and our desire to exceed your expectations.
Consistency in Workmanship
HAINESVILLE ROOFING CONTRACTORS
We are proud of our legacy of excellence. It's the foundation on which NWS Restoration was built and it's the foundation on which it continues to endure. From the initial contract to the final inspection – it's our commitment to the character of our representatives, consistency in our workmanship, and concern for our clients and customers that separates Northwest Storm Restoration from all other roofing contractors.
No Cost, Social Safe Distance Roof Inspection
Certified Inspectors – Call Us 24/7
Hail damage can be hard to spot from the ground. Highly trained Inspectors from NWS Restoration know what to look for and can identify if your roof has been compromised and needs replacement. A NWS Restoration Certified Professional is trained and tested to inspect and evaluate your current roof. Each hainesville roofer is required to complete over 80 hours of classroom and field training, followed by an extensive test. This level of education and training sets the standard of quality, ensuring our customers are cared for at the highest level. There is no obligation with our Free Inspection and Roof Replacement Estimate. Call us 24/7 to arrange for a Certified Inspector from NWS Restoration to complete a thorough inspection of your roof at no cost to you. We look forward to earning your future recommendation as your preferred Hainesville roofing company near you.
Serving the Hainesville, IL Area. Hainesville is a village in Avon Township, Lake County, Illinois, United States. Per the 2020 census, the population was 3,546. Hainesville has the distinction of being the oldest incorporated community within Lake County.
The Best Siding Installation Company
New siding and trim is an easy way for you to quickly and cost-effectively improve your property appeal and value. Does your home need siding replacement or repair? The right improvement at the right price increases curb appeal and property value. Our 17 years of remodeling experience has given us key insights necessary to make value-based recommendations. Combined with our systematic approach to assessment and installation, we're able to yield greater results with less stress and uncertainty.
We haNWSe every aspect of restoring your siding, soffits & fascia!
Removal of old siding
Installation of new siding
Replacement of rotten soffits and fascia
Types of Siding We Work with
Fiber Cement: The latest development in siding technology, fiber cement can provide the look of wood or masonry at a substantially lower cost than the real thing. Oftentimes, this type of siding can be virtually indistinguishable from actual wood siding! There are a variety of styles and textures.
Fiber cement siding is low maintenance and termite resistant, however there have been reported problems with moisture–that's why we work with James Hardie. They have worked on their products for over 30 years and dedicated millions of dollars to refining their product into the best fiber cement siding in the industry.
Vinyl: Arguably one of the most popular siding choices for homeowners, vinyl siding is a great low cost and low maintenance option for your home. Like fiber cement siding, vinyl siding offers substantial versatility in terms of colors and textures. The one major caveat with vinyl siding is that it can be prone to cracking and buckling under cold temperatures if not installed properly–that's why we work closely with CertainTeed, the best vinyl siding manufacturers in the industry, to provide both the quality and service you seek.
Wood: Most would say this type of siding has the greatest "curb appeal": with a variety of colors, textures, and finishes, your home can get a stunning look with wood siding. However, there are a few drawbacks: because of all the variation, there is a greater range of costs, from both installation and maintenance, as an exterior finish is required and must be occasionally serviced. Wood siding is much more susceptible to weather, rotting, and insects/rodents.
Metal: Metal siding is typically made up of aluminum or steel. Often this siding is used as "retrofit" siding, meaning applied over wood siding that is worn out or damaged. If installed properly, there are typically no issues with moisture or unwanted insects/rodents. This type of siding offers both horizontal or vertical styles, and comes in a variety of colors. The major drawbacks to this type of siding can be prone to dents or fading over time, thus requiring specialized coating at additional cost.
Soffit & Fascia Installation
Soffits are designed to provide attic ventilation and water shedding from exterior walls. Technically, a soffit is the underside of any element of a building. The most common soffit is found in the area under the eaves on the exterior of the house. The soffit extends from the side of the house to the edge of the eave and closes the space beneath the eave.
Fascia is used in conjunction with soffits for added aesthetics and is also needed for the installation of gutters. Fascia is the band running horizontally and situated vertically under a roof edge. It is mounted on the exposed ends of rafters or the top of exterior walls to create a layer between the edge of the roof and the outside. In addition to serving an aesthetic function by creating a smooth, even appearance on the edge of the roof, fascia board also protects the roof and the interior of the house from weather damage. Not all styles of home design feature fascia boards.
We can help you:
Replace rotten fascia
Add new fascia
Replace Existing Soffit Panels
Install New Soffit panels w/ ventilation
Contact us for a FREE Estimate Today!
Past Projects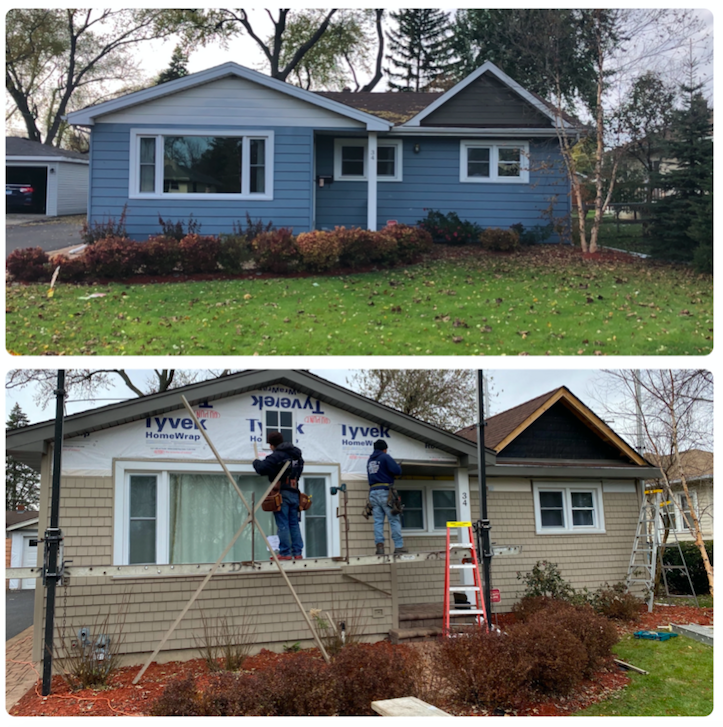 Hainesville IL Roofing company – We are licensed roofing contractors near you. All of our roofers are certified by strict manufacturer training. We deal with asphalt shingle, cedar wood shake, flat roofs, TPO, EPDM rubber. Residential or Commercial.
Siding Repair, Siding, Installation.
Soffit and Fascia repair and installation Services.
Places in Hainesville, IL 60030